Empower your team with information security insight
from regular governance measurement
Keep your information security team from drowning in technical metrics. Give them the tools they need to make information security data business-relevant, useful and available for strategic and tactical decision making - start by simplifying governance measurement, connecting it with business context, and delivering a roadmap of critical path activities that helps everyone move information security forward.
Why start with governance? Because good governance can reduce your risk of security incidents
by over 80%.
Leverage your team's knowledge, our tools and advisory support to build a plan that aligns your organization's strategic priorities with your information security needs.
Get the benefits
Clear ROI
Align information security investments with business goals, demonstrate value and partner more effectively with key stakeholders
Boost productivity
Focus the information security organization on the most urgent requirements and increase efficiency by concentrating limited resources on important task
Rapid insight
Gain strategic insight 10x faster than with traditional assessment methods, then leverage that information to focus your information security organization on the most pressing problems
Experts' experience
Leverage an ensemble learning-based recommendation engine trained by information security experts to practically prioritize activities
Common language
With business impact as common ground, everyone across the business and technology can speak security and communicate requirements and rationale more effectively.
How we can help
By enabling simple, self-sufficient governance measurement through Asena: Business-driven information security
Providing advisory support for:

Holistic to mission specific scoped assessments
Roadmap development, from high level to detailed
Plan execution, from drafting policy to implementing security measures
Security awareness training
Regular maturity reviews to assess progress & re-evaluate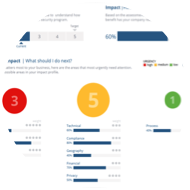 Learn more or choose the plan that works best for you.

RESOURCES
CYBERCRIME RISING
1.9 billion records compromised, lost or stolen in 2017; up 164% from the 2H 2016